Campbell Farms has been growing and shipping fresh potatoes for over four decades.
We are a family owned farm that operates and manages every part of our company.  We believe in a hands on approach.  Certified seed, cutting edge technology in the field and secure production warehouses ensure our potatoes are the best quality for you and your customers.
Campbell Farms is committed to providing the highest quality and safety in every order, from field to fork, we get it right.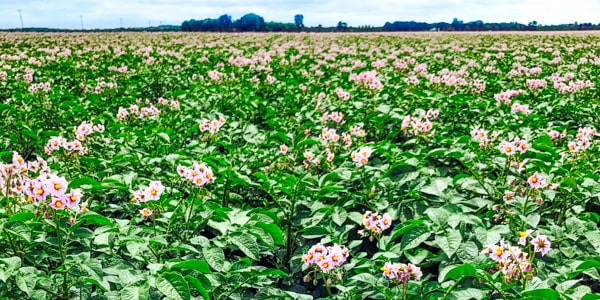 Minnesota growing provides us with the ability to service our customers with fresh potatoes on a seasonal basis.
Big Lake is located to the west of Minneapolis.  For centuries farmers have been growing potatoes in this rich soil.  Most of the land is irrigated, which supplements Mother Nature in the watering process.
Minnesota has a very small window of growing opportunity.  This location allows us to leverage this window to grow fresh potatoes from June to September.  The fresh crop is harvested and promptly delivered to customers.
The Big Lake location has given us an edge to bring fresh, Midwest grown potatoes to our loyal customers.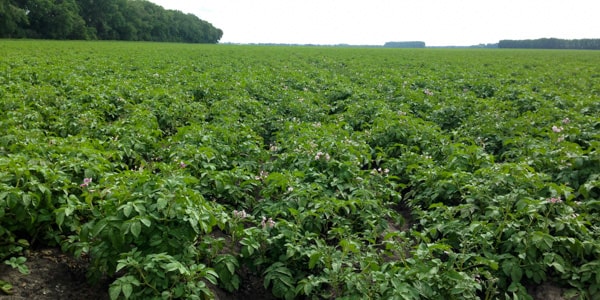 The Red River Valley has some of the richest soil in the world and is where Campbell Farms found its roots in 1978. Two brothers, starting out on 140 acres, grew the farm to thousands of acres today.
Our Grafton, ND location carries fresh red organic potatoes alongside our premium red and yellow potatoes.
We start planting during the April-May window and begin harvest around August.  The potatoes are harvested and brought into our storage facilities.  Campbell Farms ships our product to customers immediately, but also maintains a supply abundance to last through the winter months.  This keeps our packing facility busy shipping potatoes through April, loading 10+ trucks per day.
Our relationships with surrounding landowners gives our operation the capacity to rotate land.  The relationship between farmer and land is the key to keeping rich soil in the Red River Valley for generations to come.
How Our Potatoes Go from Field to Fork
Campbell Farms owns and operates every aspect of production.  This allows complete control over input, growth quality and shipping logistics for our multi-farm locations.  Using this structure, we are able to supply customers with fresh, family grown potatoes 12 months out of the year.
Our seed begins in the rich soil of the Red River Valley.  North Dakota northern grown seeds are hardier and more vigorous than other varieties of seed.  Grown under one of the toughest State Certification programs in the country, all seed stock planted must be winter tested and approved for re-certification.  Field inspections and the final inspections are done by the North Dakota State Seed Department.
Multiple growing locations provides year round potatoes.  Since Campbell Farm's potatoes grow in several locations in the United States, we are able to deliver fresh potatoes directly to your facility.  We pack every conceivable package that a consumer can fathom, giving you full control over branding and pricing strategy.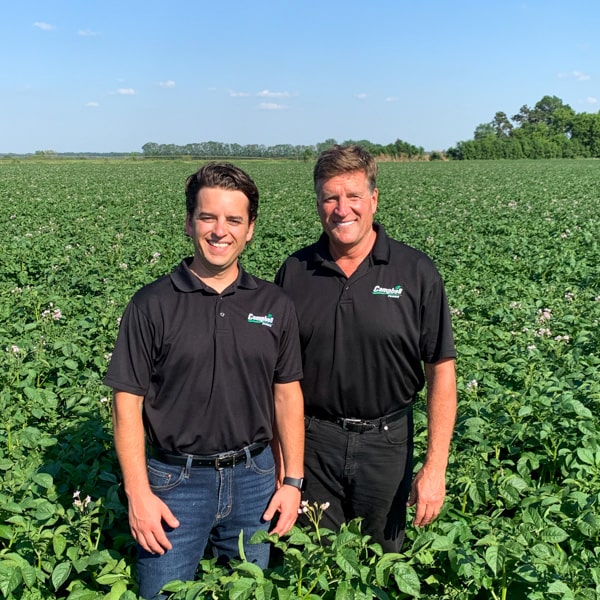 In 1978, Tom and Bill decided to build a new future for themselves and their families.  With the help of a local bank loan, they invested $9,000 into a potato farming operation.  The brothers were able to purchase a full line of potato equipment to plant and harvest their first 140 acres of red potatoes.  This would mark the beginning of a strong family business.
The family business would be complete when Greg joined Tom and Bill two years later.  Together, they grew a small 140 acre farm into the successful business now known as Campbell Farms.
Four decades of farming has cultivated a tradition of excellence, integrity and long-term relationships with our customers.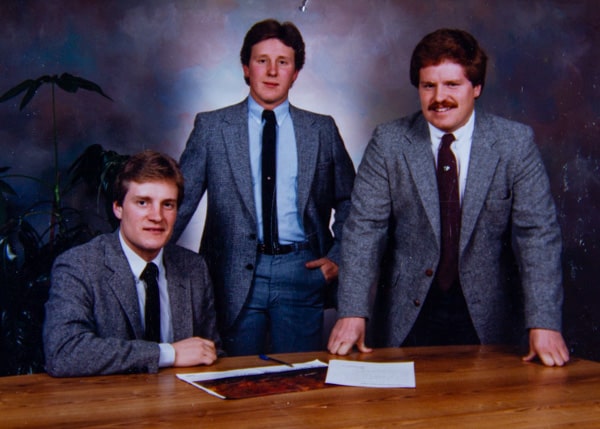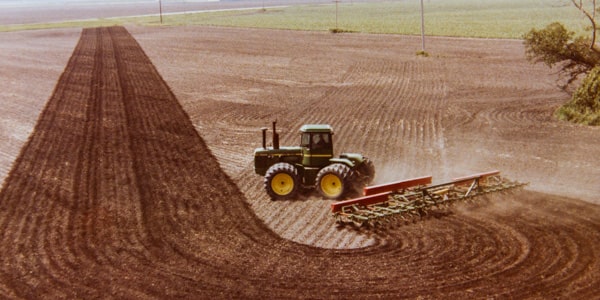 Quality Assurance and Safety Precautions
Produce safety is product quality.  With our Product Traceability Initiative (PTI), we stay compliant with each rigorous requirement.  Through the guidelines of this mandate, we will always be able to trace the origin of your produce.  We also maintain a Food Safety Program requiring us to be compliant with all state and federal regulations.  All of our locations undergo annual GAP Audits, along with the Nationally Accredited Primus GFS Audits.  The Grafton, ND farm is also CCOF organic certified.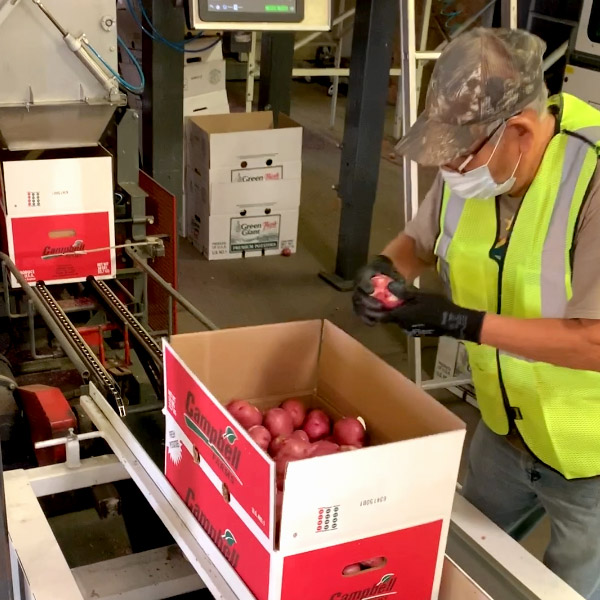 2 - Set up your pickup time
3 - Have fresh potatoes delivered to your facility

The Campbell family of companies are a fully integrated, year-round supplier of fresh table stock potatoes.  We are growers, packers, shippers and marketers with operations in North Dakota and Minnesota.
Offering a full range
of potato services
Contracting
Forward pricing
Private label packaging
Warehousing
Corporate account programs
We are committed to quality grown potatoes and great customer service.
We are grateful to have
experienced owners, the best personnel,
loyal vendors and our valued customer base.