Sustainable Farming Commitment at Campbell Farms
Sustainable farming is the foundation of safe agriculture, sustains our land and allows us to steward our God-given resources.
We don't take our natural resources for granted.  The opportunity to work with rich soil and clear blue sky reminds us of our mission.  Our great employees to allow our farms and packing operations to produce healthy, safe and sustainable potato products.  Campbell Farms is a leader in the next generation of agriculture.
Tom Campbell - Campbell Farms
Quality Assurance and Food Safety Precautions
Quality Assurance, from Certified Seed and variety selection to our compliance with the PrimusGFS Ranch and GMP Audits are vital. PrimusGFS is a Global Food Safety Initiative (GFSI) benchmarked audit scheme which covers Global GAP and GMP as well as Food Safety Management Systems (FSMS).  All farm locations are audited yearly for both.  All locations are FDA Certified. Food safety is crucial to our reputation at Campbell Farms.
Our use of a HAACP program includes the trace-back enablement system.  All potatoes are dated and source coded, enabling trace back to the exact field in which the potatoes were grown.  The Produce Traceability Initiative (PTI) is also implemented at all locations.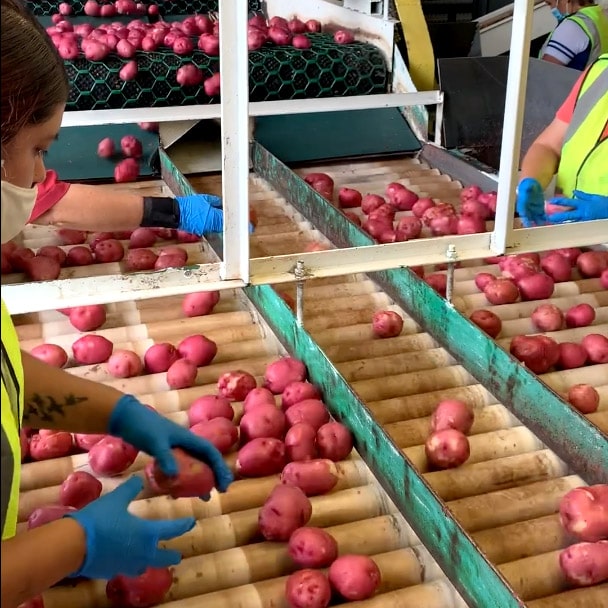 You deserve the best potatoes from a clean source.
The bedrock of food safety is systems, monitoring and continual improvement. Campbell Farms reviews, monitors and improves food safety standards on a daily basis. Consumers can relax knowing the food they consume is sourced from a farm committed to fresh & healthy produce.
Our assurance is traceable. Know the seed origin, what happened in the growing field, when it was harvested and where it traveled to reach the shelf of purchase. This traceability is our pledge to you.
Certified Inspections. Our farms are inspected by PrimusGFS. PrimusGFS is a Global Food Safety Initiative (GFSI) fully recognized audit scheme covering both Good Agricultural Practices (GAP) and Good Manufacturing Practices (GMP) scopes, as well as Food Safety Management Systems (FSMS).
Measurable Benchmarks. The Global Food Safety Initiative (GFSI) creates the food safety benchmark & framework for our farm. They recognize the authority of the PrimusGFS audit scheme, helping us move closer to global food safety harmonization.
Your safety matters to us.
Jerel Lindgren – Food Safety Director
Employee Safety Management Program
Campbell Farms is committed employee, worker and staff safety.  We believe each and every employee matters and should be protected.
Safety should be integrated into work, not merely a checklist of requirements.  We actively work toward improving our Safety Management Program:
Regular Safety Meetings
Fire Safety Preparedness
First Aid Readiness
Personal Protection Equipment
Lock Out / Tag Out Program
Hazard Recognition
Accident Analysis
Distracted Driving Education
Equipment /Employee Training
Much More
No matter whether we're in the field, packinghouse, office, planting, cultivating, driving or harvesting, everyone benefits from the outcome of safe work.  Everyone should strive to commit to the right thing – even when no one else is looking.
Jerel Lindgren – Safety Director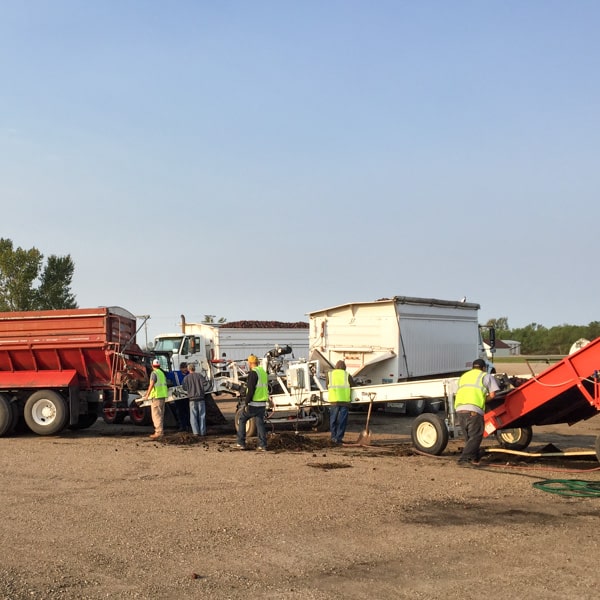 2 - Set up your pickup time
3 - Have fresh potatoes delivered to your facility

The Campbell family of companies are a fully integrated, year-round supplier of fresh table stock potatoes.  We are growers, packers, shippers and marketers with operations in North Dakota and Minnesota.
Offering a full range
of potato services
Contracting
Forward pricing
Private label packaging
Warehousing
Corporate account programs
We are committed to quality grown potatoes and great customer service.
We are grateful to have
experienced owners, the best personnel,
loyal vendors and our valued customer base.